Miscellaneous
I have moved! I am now located in the Gallatin, TN area. I am a graphic, layout artist for hire in the middle Tennessee area. I am open to opportunities in the Greater Nashville, Gallatin, Lebanon, Murfreesboro, and Lebanon areas. Please see my updated resume and portfolio for my information and works. Thank you!
I like to do silly Facebook covers with many pictures rather than just the one picture that can be uploaded. I created a template to match home profiles and also pages for groups and businesses, and created these for myself and friends.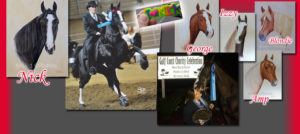 Although short on time, I do like to go out and fun draw occasionally. I did this one while at a horse show at Brownland Farm in Franklin, TN.